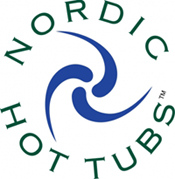 Since 1995, Nordic has provided high quality, affordable therapeutic hot tubs. A Nordic hut tub is simple, therapeutic, affordable and reliable.
Nordic's Dual Therapy System is unique to Nordic Hot Tubs and is a combination of high flow massage jets and whirlpool therapy found in sports therapy. The massage jet therapy is similar to all other hot tubs in the industry. The whirlpool jet creates a water mass in the whole hot tub, or a high volume of water in a circular flow. Other hot tub manufacturers have forgotten that this is the key to muscle therapy. Nordic hot tubs massage both the back side and the front side of the body.
Nordic only uses name brand, top quality components like Balboa controls, Aqua-flow pumps and Waterway jets.
A lot of these tubs are convertible between 110v/220v which means you can either plug them directly into the wall or have them wired with a 220v gfci breaker.
Classic Series Nordic Hot Tubs
Modern Series Nordic Hot Tubs