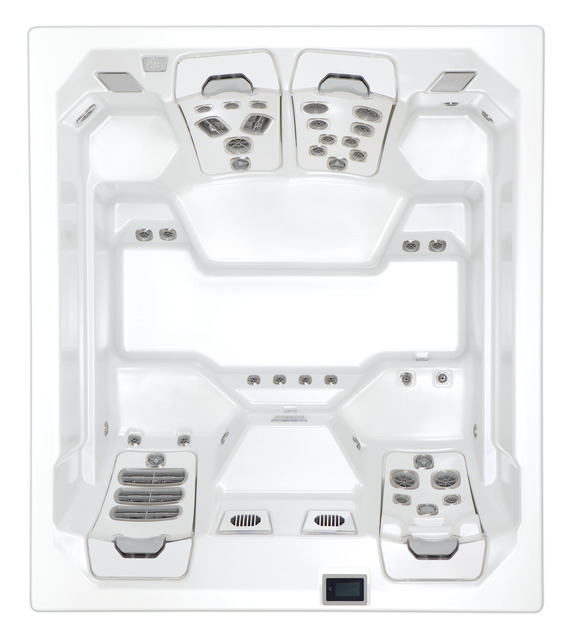 M series hot tubs by Bullfrog Spas introduce a modern and economical look and feel to therapy. This little spa is great for limited space in the backyard but wide open on the inside for a big feel in something small. Unwind in luxury with hip, sciatic and foot jets for a much needed deep tissue therapy. This little spa is equipped with a choice of four custom therapy enriched JetPaks, for two seats that you can sprawl back in and enjoy a relaxing message and two for the love-seat, to enjoy a calming therapy next to the ones you love.
Size: 7'7″ (2.31m) x 6'8″ (2.03m) x 34″ (.86m)
Therapy Pumps: 2
Multi-Functional Auxillary Controls: 1
Dry Weight: 800 lbs/363 kg
Filled Weight: 5053 lbs/2292 kg
Water Capacity: 387 gal/1464 L
Take a deep breath and unwind in this premium-level, space-saving spa. You'll treasure the experience of your four custom-chosen JetPaks, which are backed up by two therapy pumps—offering the ultimate in powerful therapy. This luxury spa is fitted with a multi-function auxiliary control and includes more seating and premium features than any space-saving spa on the market. The compact M6 is here to pack a punch by fulfilling the Bullfrog Spas peaceful promise in a small amount of space, offering a supreme spa experience.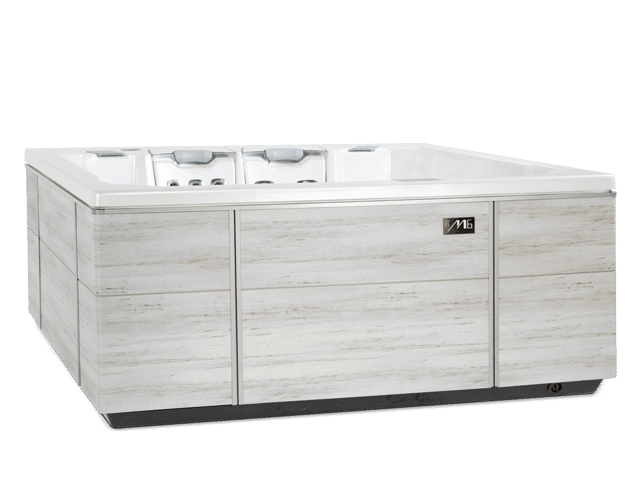 Creating a smaller sleek 7'7″ x 6'8″ x 34″ with an open interior for the feel of a big spa at heart, the M6 would be a perfect, eye-catching addition to show off in your backyard. Just like the M7, the M6 has its very own love-seat, to give you and your loved one an incredibly relaxing therapy experience right next to each other. Bullfrog's exceptional design of so much space in such a little spa, gives two therapeutic cool-down seats to escape the warmth but still experience therapy on the lower back. This little tub will steal your heart and allow you the look and feel that you desire in a big modern way.