Napoleon's St. Tropez outdoor gas Patioflame® table series features a classic, linear design that will match any outdoor décor and take the chill off cool evenings. The St. Tropez Series is constructed of rust-free aluminum for lightweight mobility and corrosion resistance. A stylish topaz glass ember bed reflects the light of the flames warming you and providing a cozy atmosphere. The single panel access door opens to the propane tank for easy tank replacement and a natural gas conversion kit is included for your convenience. Comes with a matching burner cover to provide a larger serving area for entertaining, when not burning.
St. Tropez Rectangle 60,000 BTU's 24″h x 36″w x 55 ½"d Natural gas or propane   
St. Tropez Square 60,000 BTU's 24″h x 48″w x 48″d Natural gas or propane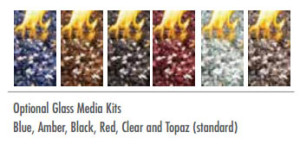 Why Napoleon? At Napoleon, we blend artisanship with craftsmanship to create products that are at the center of the most meaningful moments people enjoy in and around their homes. Our indoor and outdoor fireplaces draw people in with their beauty, creating a warm, relaxing place to unwind after a long day. Our grills come equipped with the innovative features, precise control, and quality that even the most experienced cooks demand to create unforgettable meals. And our heating and cooling systems are engineered to such a high level, are so quiet and efficient, all you'll notice is how comfortable you are every day of the year. We're committed to the families we serve, because we are a family business. Since 1976, the Schroeter family has guided our company with a clear vision of uncompromising quality, superior technology and designer features. To this day, we continue to earn our customers' trust by standing behind every Napoleon product. To ensure that every customer has the best possible experience, we partner with a network of over 4,000 independent dealers. Each dealer is equipped with the professional training and experienced technical support staff necessary to offer unparalleled customer service. Take a look at our carefully crafted home products and you'll see why coming home to Napoleon makes every welcome warmer.