Why Napoleon?
Napoleon blends artisan
ship with craftsmanship to create products that are at the center of the most meaningful moments people enjoy in and around their homes. There is something to be said about gathering around a roaring fire. With a Napoleon Patioflame Table or Patioflame you can have the campfire/fire pit experience in your back yard without the mess and work, or regulations, of a real wood fire.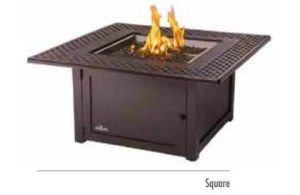 Indoor and outdoor fireplaces draw people in with their beauty, creating a warm, relaxing place to unwind after a long day. The Kensington, St. Tropez and Madrid Series of fire tables will create that calming ambience with their beauty and elegance. No outdoor party or get together is complete without one of these stunning options!